30 May 2023
Statement by Conrad Bryan at the 2nd Session of the Permanent Forum on People of African Descent in the UN General Assembly Hall New York
(See UN Video at 53:19 minutes)
Madam Chairperson, Excellencies and Fellow Delegates
It is an honour represent the Association of Mixed Race Irish at this 2nd Session of the Permanent Forum, here in New York. Thank you for this opportunity to speak again. You will remember, at the inaugural Session in Geneva, I talked about the children of mixed African and Irish parents whose childhoods were stolen in Irish orphanages and institutions. I also spoke about Ireland's failure to provide just and adequate remedies.
Unfortunately, I regret to say that Ireland continues to deny reparations for the systemic racism children were subjected to in childcare institutions. The redress Bill has been debated just today in Ireland's parliament, and despite children being subjected to systemic racism and illegal non-consensual vaccine trials, in breach of the Nuremburg code, the State continues to deny us reparatory justice.
We see the same denial of justice across European Union States. For example, in Belgium, many Métis children, born of black African mothers and white Belgium fathers, were taken from their African mothers in the Congo and Uganda in the 1960s and transported to Belgium without the consent of the mothers. They were placed in orphanages or adopted out to white families. Some were put into institutions in Africa and are now in Belgium, not only parentless, but many are also stateless. Like Ireland, Belgium provided the Metis a State Apology in 2019. However, both States still refuse to provide reparations.
Madam Chairperson, this continuing denial of reparatory justice, in our region, is rooted in the legacy of European colonialism. The Métis children in Belgium came from Belgium's Colonial Territories and the fathers of the African Irish children came from the decolonising African Nations mainly in the 1950s and 1960s. This is not some distant past and the harms are still felt in living people today. The European States and the European Union must reckon with this colonial past. They must recognise that group rights are important, and in particular the group remedies and relief. Structural and Systemic racism directly impacts specific groups and therefore requires systematic responses by States. I ask all States to work with people of African descent for a fairer world.
Thank you very much
21 March 2023
Dail Theatre - Irish Parliament, Kildare Street – 11.00am Tues 21 March 2023
Talk by Conrad Bryan
Thank you Senator Alice-Mary Higgins and Dr Salome Mbugua for this opportunity to speak here today. I left Ireland many years ago and its great to see so much diversity in front of me here today. When I was small growing up Ireland there were so few black and brown people. I spent my childhood in Irish institutions and I was always told that I was Nigerian, but this was incorrect. I found out later in life that I was actually South African and I now have a great relationship with my family in South Africa. This is why today is of particular significance for me.
This is an important day in the calendar for the fight against racial discrimination globally and for South Africa, as it recalls the deaths of 69 people in Sharpeville. When Mandela spoke in this very parliament on 2 July 1990, shortly after his release from prison on Robbin Island, he said:
"we too shall become a free people; we too shall have a country which will, as the great Irish patriots said in the proclamation of 1916, cherish all the children of the nation equally…..".
He went on to say that Ireland as a "country has had one of the most energetic and effective anti-apartheid movements in the world. Irishmen and women have given wholehearted and often sacrificial support for our struggle in the fields of economic, cultural and sports relations. We, therefore, salute your sportspeople, especially the rugby players, your writers and artists and the Dunnes' and other workers. They will not be forgotten by the masses of our people."
Well, I can tell you, as the son of a black South African father who studied here in Ireland in the 1960's that the black South African's have not forgotten this country's solidarity.
But why has this country forgotten so many of its own children of African descent, born to Irish mothers, who were left in its abusive childcare institutions due to the colour of their skin. Why has the generosity given to faraway lands in Africa not being given to your own citizens of African descent and mixed race here in Ireland. Why have we been denied full recognition for racial discrimination we experienced and justice, despite what the UN Human Rights experts stated on 23 September 2023 about systemic racism in Irish childcare institutions? We need to stop the constant denial of racism in this country at every level, especially in this House, and live up to the ideals and hopes expressed here by Nelson Mandela.
Later today a new National Anti-Racism Plan will be launched by the Government which is long overdue. I do not know what is in this plan, but I do sincerely hope it will be a plan, not for the Department of Equality, but for the whole of Government and more importantly for wider society. I hope it will reach into every recess of the State from childcare and educational institutions to the criminal justice system and beyond. I hope it reflects and incorporates international human rights law and norms into our domestic legal order, and restores the full protection and dignity for all communities that face racism in this country on a daily basis. Despite our disappointment with how we were treated by the State we are still open to working with those wishing to make life better here for people of African descent especially children in the childcare system, the Traveller community and other ethnic minority groups.
5 December 2022
Conrad Bryan attended the 1st Session of the Permanent Forum on People of African Descent at the United Nations in Geneva and was given the opportunity to make a statement on behalf of AMRI. See below:
23 September 2022
UNITED NATIONS EXPERTS CALL ON THE IRISH STATE TO TAKE THIS OPPORTUNITY TO PROVIDE REDRESS FOR HARMS CAUSED DUE TO RACIAL DISCRIMINATION AND SYSTEMIC RACISM, TO WHICH CHILDREN OF AFRICAN AND IRISH DESCENT WERE SUBJECTED, IN IRISH CHILDCARE INSTITUTIONS
The Association of Mixed Race Irish (AMRI) welcomes the statement released today by UN human rights experts expressing its "concern over the lack of adequate redress for systemic racism and racial discrimination in Irish childcare institutions…between the 1940's and 1990s".
Following a formal complaint by AMRI trustee, Conrad Bryan, to the United Nations Special Procedures in January 2022, the Working Group of Experts on People of African Descent and other Special Rapporteurs, examined evidence and information about racism in Mother and Baby Homes (MBH), and other institutions in Ireland. See UN Statement here .
"Like many survivors of Mother and Baby Institutions I was also deeply disappointed with the Mother and Baby Home Commission's final conclusions in its report, in particular its failure to see the systemic racism that was clearly evident in Mother and Baby homes and in other institutions, as well as the additional impact on our human rights and on our lives as children and adults", said Mr Bryan.
UN Experts state that "These individuals had their childhood stolen because of the racial discrimination and systemic racism that prevailed in the childcare institutions at the time".
AMRI is pleased that finally somebody believes what we have been saying for years about children of African descent in these institutions. The State has always ignored or denied that racism existed in these institutions, but has now admitted to the UN that "discriminatory attitudes" restricted our opportunities to have a normal family life. Racial prejudice and racial discrimination in these institutions affected many of our human rights, not only the right to a family. It is unfortunate that survivors and Irish citizens have to seek acknowledgment outside Ireland from independent human rights experts, such as the United Nations Special Rapporteurs.
We wish to thank the UN Human Rights Office in Geneva and in particular the Working Group of Experts on People of African Descent and other Special Rapporteurs who handled this complaint and supported our call for justice. It is important that States meet their international human rights obligations and be seen to act in the fight against persistent racism that exists today and provide reparation for racism and racial discrimination.
To this end, we hope the Irish Government acts on the call from the independent human rights experts to take this unique opportunity, in its current proposed redress scheme, to provide full reparations for the systemic racism and racial discrimination to which mixed race children were subjected in the institutions and in some bad placements. Furthermore, we continue to call for a full State apology for the failure to protect children from racial discrimination and systemic racism in these institutions.

Contact:
info@mixedraceirish.ie
18 May 2022 - Reaction to proposed Mother and Baby Institutions' Redress Scheme
We are pleased to see the submission to the Children's Committee by Irish Council of Civil Liberties (ICCL) in response to the above Mother and Baby Redress Scheme (see their website)and the Public Survey by our Trustee Conrad Bryan (also submitted) showing the reactions by the general public, many of whom are survivors. You can see these below:
17 mARCH 2022 - WISHING YOU A HAPPY ST PATRICK'S DAY!
Have a wonderful day today with family and friends.
Happy St Patrick's day.
5 fEBRUARY 2022 - Alternative Perspectives: Ireland's Centenaries.
See our feature article - Lecture by Dr. Phil Mullen, click here:
On 16th January 1922 the Lord Lieutenant of Ireland handed over power to the new Irish Provisional Government and a State commemoration took place at Dublin Castle in January 2022. This was one of many commemorations that will take place as part of the planned "Decade of Centenaries" and the Association of Mixed Race Irish (AMRI) is keen to reflect on and share other commemoration stories that are expected to remain outside mainstream narratives by the media.
To this end, we are delighted to present in our features page a lecture by Dr. Phil Mullen which she gave at TCD's Global Brain Health Institute at TCD in January 2022. As this is a year of Centenaries, this lecture is about the ninth Irish Race Congress held in Paris in January 1922 and the Publication of Ulysses also released in January 1922. It covers some interesting research on black people in Ireland.
29 November 2021 - AMRI contributes to the public consultation on the review of the Equality Acts
AMRI is pleased to contribute to The Department of Children, Equality, Disabilities, Integration and Youth's public consultation of the Equality Acts which closed today.
We are calling on the Government to commit to more transparency and accountability by obliging public services to report disaggregated data on racial and ethnic groups using the services of all public/state bodies or under the care of or employed by state bodies.
Taking a human rights approach to equality and racial discrimination is essential to any vibrant and cohesive society.
The Irish Racial Justice Forum formed by AMRI contributes to our consultation below:
17 November 2021 - Redress Scheme for survivors of Mother and Baby Institutions Announced - 'Morning Ireland ' Interview
Mairead Enright , legal academic at Birmingham University speaks about the scheme and its short-comings. Also AMRI spokesperson Conrad Bryan contributes to the discussion.
11 November 2021
Venezuela supports AMRI at UN Universal Periodic Review.
UN ISSUES A COMMUNICATION TO IRELAND ON ITS HANDLING OF MOTHER AND BABY HOMES INVESTIGATION and Minister for Foreign affairs responds
AMRI is pleased to note that, at the UPR Review in Geneva of Irelands Human Rights record, Venezuela recommended that Ireland apologise for human rights violation of mixed race children in institutions and in unsuitable families and provide fair compensation.
See comments at 24.37 minutes in this UN video
AMRI also welcomes recommendations from many countries that Ireland incorporate the 'Convention on the Elimination of all forms of Racial Discrimination' into its domestic law and take effective measures to reduce racial discrimination against people of African Descent, Roma and Travellers and reduce hate speech, especially from politicians.
AMRI also thanks Germany, Spain, Brazil, Australia , Luxemburg, Panama and the Republic of Korea for their comments relating to Mother and Baby homes and Irelands child welfare system especially for children from ethnic minority communities.
On 5 November the United Nations issued a Communication to Ireland (below) setting out it's concerns about the Mother and Baby Homes investigation and related issues with burials and the failure to engage the Coroner to investigate criminality and illegal adoptions. The communication also notes issues relating to mixed race children in institutions on page 10.
On 9 November, the Irish State responded to the UN letter and said it leaves open a standing invitation to the UN to visit Ireland to carry out a special procedure investigations or to assist the Government ( Click below).
AMRI has already called on the UN to visit Ireland to investigate and report on human rights violations relating to racial discrimination.
14 July 2021 - PRESS RELEASE – The DRAFT Alternative Executive Summary
concludes that institutional racism existed
in mother and baby homes.
The Association of Mixed Race Irish (AMRI) welcomes the publication of the 'Alternative Executive Summary' of the Mother and Baby Homes Report, prepared by a team of 25 academic and legal experts.
We are pleased that this Alternative Executive Summary concludes that "Mixed-race children experienced institutional racism". The report also states that the 'Commission found ample evidence of discrimination against both women and children on the basis of their membership of vulnerable groups'.
AMRI has always claimed that institutional racism existed in these institutions but this was refuted by the Commission of Investigation into Mother and Baby homes. The human rights approach taken by this academic team, in its analysis of the evidence contained in the Commission's Final Report, presents a clearer picture of the racial abuses that occurred in these institutions.
The Commission's Final Report concluded that "there was no evidence of discrimination in relation to decisions made about fostering or adoption" however this new report counters this by concluding that mixed race children "were subjected to a range of physical and verbal abuse because of their race. They were more vulnerable to long-term institutionalisation because they were less likely to be recommended for adoption, because of their race."
While this report offers no recommendations nor does it replace the Commission's Final Report, it does however make important conclusions which the Government should take into account in working towards justice, accountability, restoration, and redress for mothers and children impacted by these institutions.
END……………………………………………..
Notes for Editor:
AMRI contacts:
Spokesperson for M&B Homes : Conrad Bryan – email: ConradBryan@mixedraceirish.ie
Chairperson: Jude Hughes – email: info@mixedraceirish.ie
About Us: Board Trustee of AMRI: http://www.mixedraceirish.ie/About-us.php
14 June 2021 - Tilly Lyons joins our team at AMRI
We are delighted to welcome Tilly, who joins our team at AMRI as an intern to help us with our social media. Tilly has just completed her undergraduate degree in European Studies at Trinity College Dublin, and will pursue a Masters at the University of Bristol in September investigating the lives of mixed race Italians in East Africa during Italian colonial rule.
4 June 2021 - PRESS RELEASE : Mother and Baby Homes and Prof. Mary Daly's talk at Oxford University
The Association of Mixed Race Irish (AMRI) is deeply disappointed to learn that Professor Mary Daly chose to give her first talk this week about the Mother and Baby Homes Report, to an elite audience at a conference held by Oxford University in the UK, rather than speaking to survivors and victims in Ireland. To survivors this now appears like it was a purely academic exercise. This was highly insensitive and disrespectful, especially given the number of unanswered questions that survivors and adopted people still have today.
It is important to note Professors Mary Daly's comments that evidence given by survivors to the Confidential Committee did not inform the final conclusions and findings in the Report, as this evidence was not given under oath. AMRI is concerned at this revelation which explains the obvious contradictions in the Report between the conclusions and the evidence given by survivors.
The Commission was legally obliged to investigate systemic racism in the statutory instrument, which set up the Commission in 2015. We now know that the final conclusion, that there was 'no evidence' of systemic racism, did not take account of the evidence given in the Confidential Committee. The Commission was given the discretion in the statutory instrument to draw on evidence from the Confidential Committee to inform its broad general conclusions of a systematic nature. We do not believe that any investigations into "systemic" abuses can be properly carried out without including all the evidence and testimony provided by survivors and adopted people. In our view this was a significant flaw in the investigative process and leaves many more unanswered questions.
AMRI has always rejected the Reports final conclusion that there was no systemic racism. This new revelation further strengthens our position on the validity and credibility of this conclusion.
We support the call to the former Commissioners to speak to survivors and the public about the Report, so that we may have a better understanding of some of the important issues raised by Prof Mary Daly.
END……………………………………………..
Notes for Editor:
AMRI contacts:
Spokesperson for M&B Homes : Conrad Bryan – email: ConradBryan@mixedraceirish.ie
Chairperson: Jude Hughes – email: info@mixedraceirish.ie
29 May 2021 - Dr Phil Mullen reads at the event "Breaking the Silence"
Dr. Phil Mullen participated in the event "Breaking the Silence" at the National Concert Hall in Dublin to remember the mothers and children of the Irish Mother and Baby Homes.
27 May 2021 - Chairperson Jude Hughes Meets Dublin Mayor Hazel Chu
AMRI Chairperson Jude Hughes with Lord Mayor of Dublin todays 's reception with Roots in Africa at the Mansion House.
24 April 2021 - Irish Association of Social Workers (IASW) interview
Board member of IASW Dr Colletta Dalikeni and Winiswa (Winnie) Nxele talk about racism in the Irish care system.. See The Journal link below:
EVENT - ON 29 May livestream " Breaking the silence" :
Listen to AMRI Trustee Dr. Phil Mullen who will be participating in this live stream event about Mother and Baby Homes : -
---------------------------------------------------------------
16 APRIL 2021 - UN asked to intervene over Ireland's response to 'systemic racism' in mother and baby homes
Conrad Bryan from AMRI speaks to Orla Ryan of TheJournal.ie about why AMRI is asking the UN to visit and review Ireland's human rights record and how it protects people of African descent from racial discrimination, particularly children in the care system and in Direct Provision.
" THE ASSOCIATION OF Mixed Race Irish (AMRI) has written to the United Nations Human Rights Council (UNHRC) calling for the Expert Group on People of African Descent to visit Ireland and investigate institutional racism. "
AMRI has made a submission to the Universal Period Review process, as well as writing to 5 Special Rapporteurs on the recommendation of the UN.
The article also includes a Government response.
See the article by clicking on the link below:
--------------------------------------------------------------
04 April 2021 - Recalling the State Apology given by Belgium to mixed race people
Today is the second anniversary of Belgium's Apology to the Métis people in Belgium who were taken from their African mothers in Africa and transported to Belgium.
Read the feature by Conrad Bryan here:
................................................................................................................
10 MARCH 2021 - CALL FOR SUBMISSIONS ON A RESTORATIVE RECOGNITION SCHEME
The Irish Government calls for submissions on a Restorative Recognition Scheme for former residents of Mother and Baby Homes and County Homes.
This consultation process runs until 31 March 2021 and the process is explained below on the link: The closing date for receipt of written submissions is the 31 March 2021.
There are also online consultation meetings available for booking.
................................................................................................................
19 January 2021 - RTE Radio 1 - 'Morning Ireland' - Mother and Baby Homes Report on racial discrimination - interviews with Conrad Bryan, Professor Bryan Fanning and Sheila O'Byrne
--------------------------------------------------------------
18 January 2021 - Jude Hughes interview with Smitha Tharoor :
'sTORIES OF Unconscious bias'
Listen to the story of Jude Hughes and the meaning of Unconscious Bias:
--------------------------------------------------------------
18 January 2021 - Mother and Baby Homes Discrimination - Drivetime Interview
Chairperson Jude Hughes and Trustee Dr Phil Mullen were interviewed today on Radio 1 'Drivetime' about the Report on the Investigation into Mother and Baby homes. Click the on the left below on the gray MP3 player:
Jude Hughes & Phil Mullen - Divetime interview 18 Jan 2021.mp3
--------------------------------------------------------------
16 January 2021 - AMRI PRESS RELEASE
The Association of Mixed Race Irish (AMRI) welcomes the publication of The Final Report of the Commission of Investigation into Mother and Baby Homes, and the State Apology given by the Taoiseach Michael Martin this week. We also welcome the recommendations which include rights to information to know ones identity as well as redress for the shocking treatment of mothers and children in these institutions.
In particular we are pleased to see in the State Apology that the Commission acknowledges 'the additional impact' that discrimination had on those 'with different racial and cultural heritage' and the restriction of "opportunities for non-institutional placement" because of "an unjust belief" that children of mixed race were "unsuitable for placement".
However, we are shocked at the headline statement that there is "no evidence of discrimination" in decisions about adoption and fostering when we know that approximately half of the children of mixed race were left behind. We are also shocked at how the testimonies and stories of mixed race people were presented in the Final Report as if they did not count as evidence, and statements which appear to explain away or minimise the racism experienced by our community.
Jude Hughes, Chairperson of AMRI says "Once again it's as if they don't believe what we are saying about racism in these places and the damage it caused, it gives the wrong impression, I think people just need to go straight to our testimonies and make up their own minds. .. "
Conrad Bryan, spokesperson for AMRI says "I think the Commission should have been much stronger in its condemnation of the racial discrimination it obviously found and is there for us all to see… also it should not have opened with the statement" we found no evidence of discrimination" and then go on to say, however, race was a factor. In my view this minimises the seriousness of the issue …Also I am shocked at the lack of detail on vaccine trials and mortality rates relating to our community in the section on discrimination."
Dr. Philomena Mullen, spokesperson for AMRI says "the lack of sophistication and expertise in adjudicating on whether discrimination occurred is very evident. If the claim being made is that there was no discrimination against mixed race children, then Ireland would be the first country in the world where this has occurred. There appears to be no understanding at all of how the racialisation process occurs for mixed race children who are a marginalised and othered group within an already marginalised group of children. My concern is that this report becomes the record and that the true testimonies of the survivors are extinguished or forgotten"
Alan Powderly, Company Secretary, says "The Commission is in no doubt that casual, unthinking racism existed within these institutions; but evidence suggested that we were, nonetheless, all treated the same. Casual, unthinking racism IS racism and the Commission has contradicted its own findings on many such issues within this Report." " ...
AMRI would call on the Minister to meet with us to address our concerns and to work on a pathway to addressing them.
END……………………………………………..
CONTACT: info@mixedraceirish.ie
--------------------------------------------------------------
16 January 2021 - STORIES OF UNCONSCIOUS BIAS
JUDE HUGHES IN CONVERSATION WITH Smitha Tharoor
"Let's say now, you're getting married. You've no relations to call on to come to your wedding. You're aware of that at the time. Then when your first kid is born, you've nobody to ring up and tell – aunts, uncles or anybody."
--------------------------------------------------------------
15 January 2021 - PRESIDENT MICHAEL D. HIGGINS ISSUES STATEMENT ON MOTHER AND BABY HOMES
The President of Ireland Michael D. Higgins says Church and State bear heavy responsibility over mother and baby homes. See his statement below:
--------------------------------------------------------------
13 January 2021 - State Apology issued today by an Taoiseach
See the Full text of the Apology to Mother and Baby Homes survivors which includes the following clarification and acknowledgement to those of different racial backgrounds:
The Commission acknowledges the additional impact which a lack of knowledge and understanding had on the treatment and outcomes of mothers and children with different racial and cultural heritage, those who faced mental health challenges, or those with physical and intellectual disabilities.
Such discriminatory attitudes exacerbated the shame and stigma felt by some of our most vulnerable citizens, especially where opportunities for non-institutional placement of children were restricted by an unjust belief that they were unsuitable for placement with families.
-------------------------------------------------------------
30 December 2020 - PRESS RELEASE - MOTHER AND BABY HOMES
The Association of Mixed Race Irish (AMRI) welcomes Minister Roderic O'Gorman's statement today confirming the Final Report on the Investigation into Mother and Baby Homes in Ireland will be released in the second week of January 2021.
After six years of waiting for the completion of the investigation into Mother and Baby homes, AMRI is pleased that the Government will finally publish in January the Final Report of 'The Commission of Investigation into Mother and Baby Homes and certain Related Matters' (Murphy Report).
We expect the Murphy Report to be a comprehensive and deeply disturbing report on the findings from the Commission's investigation into how mothers and their children were treated in Irish Mother and Baby Institutions during the period 1922 to 1998. We note the Minister's comment that this report reflects a "massive societal failure".
We anticipate that this report will exceed 3000 pages and will be difficult to read, covering issues such as mortality rates, post-mortem practices, burial arrangements and use of remains for anatomical examination, vaccine trials on children, illegal and forced adoption practices, long-term incarceration and institutionalisation of children etc..
In 2015 AMRI asked the Government to investigate how children of mixed race[1] were treated in these institutions following which it agreed that the Commission would identify the extent to which systemic racism impacted any residents in these institutions.
Conrad Bryan, spokesperson for AMRI says "..we are anxiously waiting to see the findings of the Commission's work and to see what it says about how mixed race children and their mothers were treated in these places and the evidence of racial discrimination in several areas of the system such as for example in medical and adoption practices…"
Jude Hughes, Chairperson of AMRI says "rather than speaking in public, many of us provided testimonies of our experiences to the Commission in private and I hope that this report will finally give the public a true picture of what really happened in these institutions…as well as the loss of our identities.. "
AMRI looks forward to reading the Commission's Recommendations and working on a pathway towards justice and healing for our community.
END……………………………………………..
28 December 2020 - BBC INSPIRATION 2020 AWARD WINNER : TARtania Brown - Sickle Cell Campaigner
Dr Tartania Brown is a "Sickle cell warrior" and talks to BBC Outlook about Sickle Cell Anemia and how this affects mainly people of African and Caribbean descent.
This is an important talk we thought people in Ireland of African and Caribbean descent should hear. Also see podcast below ( 2 Dec)with Dame Elizabeth Anionwu, our own sickle cell warrior.
Outlook-20201228-MyBrothersIllnessMadeMeASickleCellWarrior.mp3
--------------------------------------------------------------
09 December 2020 - BBC Interview with Conrad Bryan
"When you want something and you can't have it, your imagination takes over," he says. Conrad Bryan described to BBC Newsday that - as an adult researching his African heritage - his search started with just a name.
ConradBryan.BBCNewsday.09.12.20.mp3
--------------------------------------------------------------
4 DECEMBER 2020 - A BBC WORLD SERVICE FEATURE ON SOME of our MEMBERS
We are pleased that the BBC World Service allowed a small group of AMRI members to talk about African Identity loss and discovery. Part of the continuing legacy associated with Irish institutions has been the story of children of African fathers left in Irish institutions and now as adults are still trying to search for their African families and identities. This challenging journey is in the face of many obstacles such as geographical location of the African families today and the limited rights to access private information in Ireland. Read the feature below.
We wish to thank the public for the warm and positive responses to this feature published on Friday.
-----------------------------------------------------------
03 December 2020 - Dame Elizabeth Anionwu talks - Podcast
We are delighted to announce the release of an interview with our member, the wonderful Dame Elizabeth Anionwu, interviewed by Doug Devaney
Listen to the Plastic Podcast production below :
Plastic Podcast brought to you by Doug Devaney at: https://plasticpodcasts.com/
THE PLASTIC PODCASTS
--- The Plastic Podcasts ---
Tales of the Irish Diaspora. We all come from somewhere else. Find out more and subscribe to us at www.plasticpodcasts.com
Brought to you by The Plastic Podcasts of The Plastic Podcasts
--------------------------------------------------------------
19 November 2020 - AMRI ATTENDS CONSULTATION AT THE NEW ANTI-RACISM COMMITTEE
On 19 November AMRI attended the consultations with civil society organisations held by the Anti-Racism Committee.
At this meeting we called on the Irish government to remove its reservation on Article 4 of the UN Convention for the Elimination of all forms of Racial Discrimination (iCERD) which was made by the Irish Government in 2000 where they objected to the provisions on Race Hate Speech.
Following the Irish Governments reservation ( along with other states), the UN Committee clarified its position and interpretation (in 2013) in General Recommendation 35 in which it explains that Freedom of Expression and the proscription of hate speech are complementary and should not be viewed as conflicting issues..
Race Hate speech and in particular race hate narratives which have created negative stereotypes of people of African descent has caused so much pain for our communities of colour in Ireland for such a long time.
Given 'General Recommendation No 35' has been issued by the UN in 2013 we see no reason for the Irish Government to maintain this reservation on Race Hate Speech and they should clarify and explain why they hold this stance.
It would be a major symbolic step to remove that this reservation at the outset of the anti-racism journey the Government plans to take.
We also raised issues around recent suicides of mixed race teenagers and we heard of the emerging mixed race group in the Traveller community which is important for us to consider and include. We also spoke about how the Government should provide all our civil society groups with financial support to fund anti-racism activities.
-------------------------------------------------------
13 November 2020 - Lecture on 'ireland and the black atlantic'
We are pleased to show you the EPIC Museums lecture of 'Ireland and the Black Atlantic: Hidden Histories of the Irish Abroad' presented by Dr Maurice Casey, historian-in-residence for EPIC and DFAT. We also hear a fascinating conversation by the African American Lenwood Sloan. The Mixed Museum and AMRI's Exhibition is also mentioned in this lecture.
---------------------------------------------------
7 November 2020 - Memorabilia Found!
Sometimes when cleaning out cupboards and boxes a piece of paper, an old magazine or aleaflet pops up. Recently we found a wonderful leaflet showing the early days of our campaign at mixed race Irish showing all our Co - Founders. This great little organisation was founded by several people with great enthusiasm and commitment to our community. See the leaflet below:
-----------------------------------------------------
30 October 2020 - AMRI Launches its New Website
AMRI is pleased to launch its new website on this important day when finally the Commission of Investigation into Mother and Baby Homes releases its Final Report to the Government in Ireland.
Our new website is part of a transformation we are currently undergoing at our organisation which will focus, in the short term, mainly on issues associated with Mother and Baby Homes.
This website is still under construction and the support groups we will build over time will hopefully address some of the key outcomes of the Commission's Report for our community as well as provide a focal point for future development with the wider community. This is a critical time for us but we know there are many supporters who will assist us on this journey.
We can be contacted at our official email address and official twitter account shown on our 'Contact us' page.
Media requests may be made through our official contact details on this website as mentioned above.
24 October 2020 - Jude Hughes appointed as Chairperson of AMRI
(Photo credit:Tracey Anderson)
Jude is one of the founding directors of AMRI. He was born in Dublin and brought up in Ireland. He trained as a tailor and runs his own business in central Dublin. Jude has many years' experience dealing with issues of racism faced by Black and mixed race people in Ireland. He was a co-founder of Harmony which was set up in 1986 to address the racism faced by people of colour in Ireland at that time. He was involved in the Anti-Apartheid movement since 1968. It was the anti-apartheid movement that precipitated the founding of Harmony as Irish people who were in mixed marriages became concerned at the racism faced by their own mixed race children. Harmony was instrumental in achieving legislation to deal with racial discrimination in Ireland and was the precursor to the emergence of our organisation today. Jude lives in Dublin with his family.
--------------------------------------------------
22 Oct 2020 - DAIL PASSES BILL ON MOTHER AND BABY HOMES RECORDS
In 2015 the Government launched an investigation into Mother and Baby Homes. Many mixed race children were put into these institutions. AMRI has been campaigning to have their cases investigated by the Commission.
On 22 October 2020 the Minister for Children Roderic O'Gorman passed a Bill through parliament to enable the release of the Commission's Report by 30 October 2020. The Bill seeks to preserve a single archive of the Commission's records and also seeks the consent of survivors on whether they want their records anonymised or not. You can read new on this here:
However, under the 2004 Commissions of Investigations Act these records would be sealed for 30 years. This caused an uproar from adopted people and survivors as well as opposition Parties. Many fear that the plan to transfer a database to TUSLA will prevent them from accessing personal data about their natural parents.
See the 2015 Dail debates about the mixed race Irish campaign and its founders below in the two You Tube clips below and see 'OUR HISTORY' associated with this issue below:
Dominic Hannigan TD discusses the mixed race Irish group in the debate on theInvestigation into Mother and Baby homes announced in January 2015
Maureen O'Sullivan TD discusses the mixed race Irish campaign during the Dail debate on Mother and Baby homes in January 2015
------------------------------------------
24 JULY 2020 - EXHIBITION OF MIXED RACE IRISH FAMILIES IN BRITAIN FROM 1700 TO 2000
Over the first six months of this year Conrad Bryan of AMRI has been working with Dr Chamion Caballero the Director of The Mixed Museum to produce an online exhibition about the social history of mixed race Irish people in Britain from 1700 to 2000. This project was funded by the Mixed Museum and the Department of Foreign Affairs in Ireland through its Emigrant Support Programme.
This work was part of our commitment to raise awareness about the lives of mixed race Irish people and is a free resource to be used by educators and anyone interested in this story. This exhibition was launched in July 2020 and can be viewed online by clicking the button below:
-----------------------------------------------
03 Dec 2019 - AMRI ATTENDED THE UN SESSION IN GENEVA ON RACISM
Our AMRI delegation of five people attended the CERD Committee in Geneva on 2nd and 3rd December.
The delegation shown in the photo below included from left to right, Dr David Keane, Associate Professor at Dublin City University (DCU) . David is an expert on the International Convention on the Elimination of All Forms of Racial Discrimination (ICERD). He has been instrumental in the preparation of our Shadow Report and has been an invaluable adviser to us on CERD and friend to AMRI. Conrad Bryan (2nd from left), Jude Hughes (3rd from right), Rosemary Adaser (former CEO 2nd from right) and Phil Mullen (far right). Ms Verene Shepherd (3rd from left) was the Rapporteur who represented Ireland on the Committee.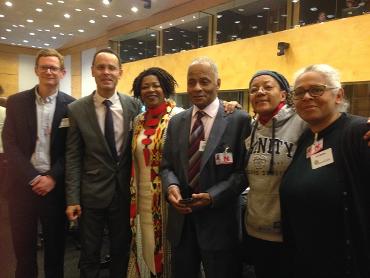 The talent and support from everyone has been incredible. We were also supported by several other organisations such as the Irish Centre for Human Rights NUI Galway, ENAR Ireland and The Irish Human Rights Commission, who raised our issues in their own reports submitted to CERD. A big thanks to everyone involved and all our supporters, as well as to all those who donated to our campaign, it means a lot to us.
As you know, our aim was to bring to the attention of CERD the human rights violations and racial discrimination endured by children of African fathers and Irish mothers while incarcerated in Irish Institutions.
We were hoping the government would address this issue in their report to CERD. But no, on the first day they failed to even mention a word to CERD that a Commission of Investigation was investigating systemic racism within mother and baby institutions. This was baffling to me and very disappointing. I was not expecting an apology given the investigation is ongoing but I was expecting some acknowledgment that they at least recognised the calls from our community to investigate this legacy issue. Not to even acknowledge this call was disingenuous.
In Minister David Stanton's National Statement to CERD there was no mention of the mixed race Irish children nor a word about Mother and Baby Homes.
However, we worked hard to submit our own shadow report to CERD and we managed to get a private sitting with the Rapporteur for Ireland, Ms Verene Shepherd on the Monday morning. She is a Jamaican who is acutely sensitive to racism and highly knowledgeable about slavery and colonialism. She listened to us behind closed doors and I could see she had an affinity with us and our concerns.
During the plenary session Rosemary Adaser (former CEO) spoke about how we are the oldest community of people of African descent in Ireland and our legacy issues must be resolved in order to address the racism experienced today in Ireland. The Rapporteur also questioned us on what reparations would look like and Conrad Bryan explained that it is not simply about compensation but must firstly be about acknowledgment and apology as well as dealing with mental health issues, education and memorialisation so people know our history and lessons can be learned.
The Rapporteur, was not going to let our issues go unheard. Following the State's report, mentioned above, Ms Verene Shepherd then made her statement of observations to the State and she covered many issues relating to racial discrimination against all minorities. Her statement to the State about our particular issues was forcefully put and went as follows:
"CERD requested information on the Investigations into abuses in Mother and Baby Homes…what were the key findings and was the matter of redress or compensation one of its findings". In an interim report from the Commission of Investigation, Judge Murphy did recommend giving access to or reopening the previous redress scheme for certain individuals such as unaccompanied children, this recommendation was rejected by the Irish Government.
She went on to say that "I'm aware there are complaints of the use of race or racial profiling in the child adoption process…a violation of iCERD Article 3 (the human rights convention) in terms of abuse on the grounds of race in care homes affecting mixed race children some of whom were taken into care because of racial identity and unfortunately many of them were abused. In the case of survivors of past abuses are there any provisions for mental health or public education around the issue of redress? ". Incidents of racial abuse and discrimination were in fact reported in the 2009 Ryan report on Industrial Schools, it is clearly stated in that report, but when it came to deciding on redress racial abuse and racial discrimination (including institutional racism) was not addressed separately as a form of abuse or human rights violation.

Committee member Professor Gay McDougall was equally scathing in her examination of the State saying: "Inclusion! Integration! you know these tend to be sort of mantras in a lot of countries…I would like to hear what you think that actually means and the extent to which you actually really struggle with the question of making sure that everyone, every group, that has been a target of discrimination is included" and went on to say " for example we hear some very interesting, and unique internationally, stories from people in the mixed race community that had unique problems of discrimination who you really have to question were they included in your attempts to redress historical discrimination…..if you don't name them you don't cover them and as far as I can tell they are not named, I'm not sure any African descent communities are particularly covered and it would be useful to hear a bit more about that".
When she mentioned the words "unique internationally" several stories came to my mind such as that of the mixed race children in Belgium who were taken from their mothers in the Congo and taken to Belgium and put in orphanages or fostered out with their identities completely erased. The State and Church in Belgium have recently made formal apologies for their role in this.

Gay McDougall rightly pointed out that our community is not named nor are we covered. It seems that it took pressure from these CERD members to get the State to name us on the second day in their follow up responses. Oonagh Buckley, the deputy Secretary General of the Justice Dept.made this closing statement on behalf of the State: "Finally I wish to speak to the issue of our fellow citizens of mixed race and their treatment in Mother and Baby Homes. The Minister would have wished to speak to this issue yesterday because I think it's fair to say we have reflected very strongly on the powerful shadow report that was prepared and the testimony the Committee heard". She went on to explain that no decisions can be made by the State on complex issues until the Commission of Investigation completes its report in Feb next year.
Finally the State acknowledged our community and the legacy issues we are highlighting.
On Friday 13th December, CERD issued its Concluding Observations on Ireland which included a specific reference and recommendation on mixed race children in institutions in Ireland.
Report by: Conrad Bryan
------------------------
© Copyright The Association of Mixed Race Irish